BACKGROUND
Toxic synthetic chemicals such as pesticides, pharmaceutical residues, and industrial wastes are a major threat to drinking water safety worldwide. Exposure to trace quantities (ppt to ppb) of these toxins can lead to cancer, birth defects, reproductive disorders, developmental impairment, endocrine disruption, neurological dysfunction, damage to internal organs, and other health problems. Unfortunately, major international water development initiatives focus almost exclusively on microbial pathogens (the most immediate threat to health) while neglecting synthetic organic contaminants (SOCs). Low-cost, environmentally sustainable and locally managed treatment technologies are needed to protect human health in impoverished, rural and remote communities.
Recent research has shown that biochar is a promising low cost adsorbent for control of SOCs such as herbicides, antibiotic residues, and disinfection by-products in drinking water while improving organoleptic (taste, odor and appearance) properties [1, 2]. Laboratory studies have shown that highly adsorbing biochar can be produced from surplus agricultural and forestry residues using low-tech, efficient and environmentally friendly gasifier drum ovens and household cookstoves [3]. In collaboration with rural villagers in SE Asia, multi-barrier decentralized water treatment systems have been developed incorporating biochar adsorption that can be constructed and maintained 100% by locals using commonplace, inexpensive, and local materials. ThE overall mission of this work is to advance sustainable and locally managed treatment systems as effective, affordable and accessible means for providing safe drinking water to households and communities in remote and impoverished regions of the world.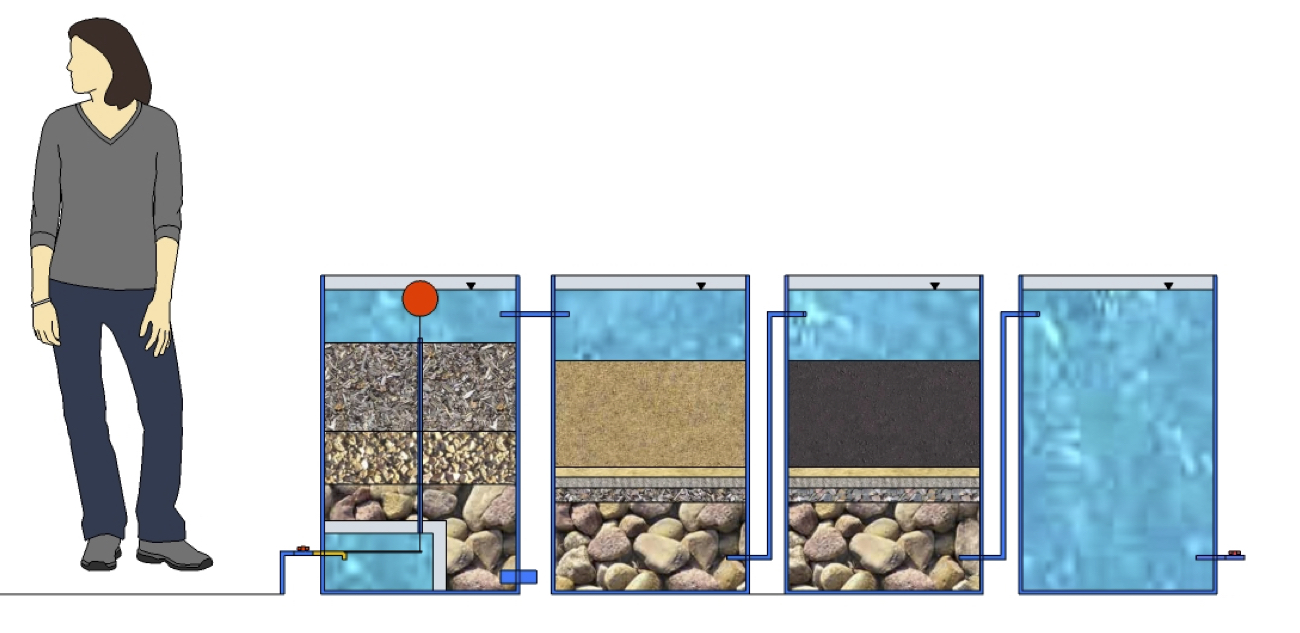 BIOCHAR WATER TREATMENT WORKSHOP
Aqueous Solutions is offering a 10-day intensive training course in water treatment using biochar. The workshop will take place from January 3-12 2016, and will be held at Pun Pun Centre for Self Reliance, located in northern Thailand. The workshop will provide participants with comprehensive practical training in the generation and application of biochar adsorbent for control of organic chemical contaminants in low cost household and community water treatment. The course will combine lecture/discussion sessions with a great deal of participatory hands-on activities. Participants will gain technical competence in generation of biochar adsorbent using common local materials and tools, as well as methods for integration of biochar adsorption in multi-barrier treatment systems that address both biological and chemical water contaminants.
Tuition for this workshop is US-$750 per person, which covers food and housing during the workshop as well as all instruction and project materials. Participants are responsible for travel to and from Pun Pun Center. More information is available at aqsolutions.org, including details for how to apply to attend the workshop. We will begin accepting applications September 1, 2015.
REFERENCES
 1.         Kearns, J.P., K.K. Shimabuku, R.B. Mahoney, D.R.U. Knappe, and R.S. Summers, Meeting multiple water quality objectives through treatment using locally generated char: Improving organoleptic properties and removing synthetic organic contaminants and disinfection byproducts. Journal of Water Sanitation and Hygiene for Development, 2015.
2.         Kearns, J.P., L.S. Wellborn, R.S. Summers, and D.R.U. Knappe, 2,4-D adsorption to biochars: Effect of preparation conditions on equilibrium adsorption capacity and comparison with commercial activated carbon literature data. Water Research, 2014. 62: p. 20-28.
3.         Kearns, J.P., D.R.U. Knappe, and R.S. Summers, Synthetic organic water contaminants in developing communities: an overlooked challenge addressed by adsorption with locally generated char. Journal of Water Sanitation and Hygiene for Development, 2014. 4(3): p. 422-436.