The biochar based afforestation project is being implemented in Ratanpur and Jhumdanda of Bandipur in the Tanahun district. Both of these villages are located in the middle hill region of Nepal and are comprised of 224 households. About one-third of the population in these villages falls below the poverty line. Agriculture is the main occupation for the majority of population residing in these two villages. Farmers in both villages have been hard-hit by water scarcity. More than half of their agricultural lands were barren and under-utilized for the last two to three decades due to water scarcity which led to low soil fertility, reduced farm productivity, depopulation and extreme poverty.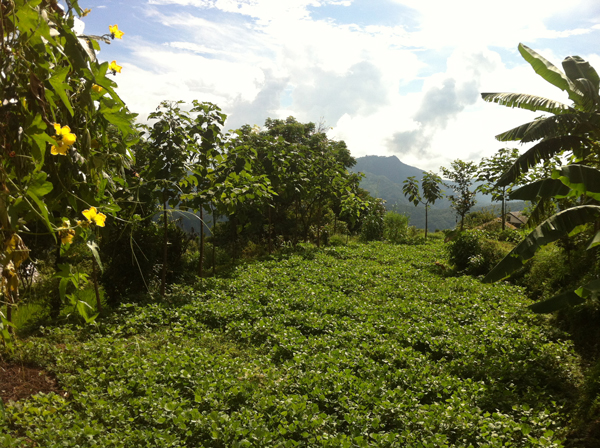 Forest garden with cinnamon, banana, paulownia, michaelia and black lentils one year after planting in Ratanpur.
To address the climate related risks and to enhance livelihoods of the people living in these two villages, Ithaka Nepal and MinErgy initiated a biochar based afforestation project in 2015. This project assisted mostly disadvantaged, low-income woman farmers to establish sustainable agroforestry forest-fruit garden systems on barren and under-utilized private farmlands. The project vision was that planting diverse trees and crops would provide multiple income streams for farmers. In addition, permanent vegetation on the terraced lands would slow rainwater flow, especially during monsoon season, reducing erosion risk and increasing groundwater recharge. In addition to planting forest gardens, a network of water retention pits for field and tree irrigation was set-up with participating farmers. Innovative knowledge from biochar based organic fertilization improved soil fertility, increased the survival rate and productivity of planted trees and crops in addition to providing carbon sequestration.
To date more than 26,000 trees have been planted which capture annually at least 250 tons of CO2 from the atmosphere. In 2015, 87 tons of CO2eq were sequestered by planting 10,239 trees. The biomass captured CO2 was sold as carbon credits to the voluntary market in Europe at USD 35 per ton. The income earned from carbon credits was shared on a pro-rata basis with the 25 participating farmer families. The biochar based organic fertilizer used when the trees were planted boosted growth of both trees and crops cultivated between and under the trees. The forest gardens created a new environmental balance by bringing back forests on degraded and barren land. It has helped to restore the local ecosystem by protecting water sources for drinking and irrigation. Lost and locally threatened tree species (e.g. cinnamon, shiva tree) have been reintroduced. Farmers have already started to earn additional income selling new crops such as ginger, turmeric, and broom grass, essential cinnamon oil and biochar based fertilizer enriched with cattle urine. In addition, livestock income through sales of milk and meat have also increased due to better fodder quality and the addition of biochar to feed.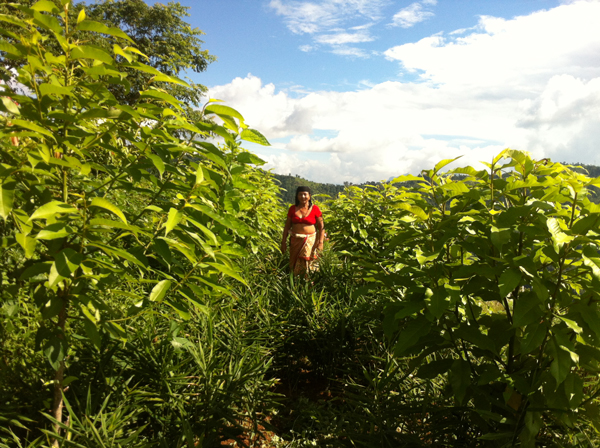 Cinnamon, michaelia and ginger in another forest garden in Ratanpur, one year after replanting barren land with organic biochar based fertilizer.
As a result, youth and economically active members from the first 25 households who had migrated to cities have returned home and started their own afforestation projects in the hope of earning more income and to live with their families. Due to the success of the initial phase of the project an additional 41 farmers from Ratanpur and 20 farmers from Jumdanda, Bandipur have since joined the biochar based afforestation campaign.
The Ithaka and MinErgy consortium plans to scale-up the concept in three more villages with a goal of planting 50,000 forest garden trees with organic biochar based substrates in 2017. Also, we plan to establish a knowledge management hub in Ratanpur for sharing and disseminating information on organic farming based on the use of biochar substrates.