Standing on the back stoop of the institute, viewing the mountains at sunset I was equally aglow with warm feelings as I remembered the camaraderie of developing the Kon-Tiki kiln with Hans-Peter just a year earlier.  With Kon-Tiki kilns now existing in 38 countries, we intended to spend the next week testing new designs and searching for further understanding of the operating parameters of the kiln.
Next morning a gleaming new garden kiln (1.15 m diameter) with an integral conical heat shield and a conical rim deflector arrived from Northern Switzerland along with its manufacturer, Markus Koller. It certainly looked elegant – but how would it perform?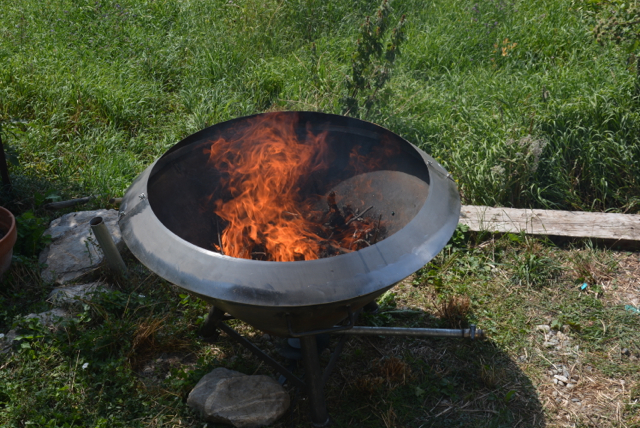 Over the next days we compared the new double cone kiln with the classic garden kiln (same inner cone with cylindrical shield), and also with our old friend the 1.5m deep cone Kon-Tiki, the 2.5m Kon-Tiki Pro, and a miniature 0.7m diameter cone.
We weighed grapevine feedstock, observed convection dynamics, measured temperatures and air flow rates, used smoke sticks to follow the streamlines, hot quenched with water or nutrient mixtures, sampled and weighed biochars, oven dried and measured moisture contents.  We calculated airflow rates, mass balances, nutrient balances, and yields.  We deepened our ongoing discussions and understandings of convection, pyrolysis, combustion dynamics, functional groups, carbon yields, and how to capture heat generated during production.
Amongst it all we didn't neglect to discus quantum biology, cosmology, entropy, mythology, and the meaning of life accompanied by the odd dive into a pristine mountain lake and the occasional celebratory glass of Mythopia red champagne. We look forward to sharing with you our understandings in upcoming articles. Blessed be the first year of the Kon-Tiki voyage ! Paul Taylor