More than 200 individuals, both young and not so young, participated and provided their biochar production information to us.  To date we've heard from folks in Australia, Cameroon, Canada, England, Finland, Hong Kong, Germany, Nepal, Serbia, Sri Lanka, Switzerland, and the US and we are still waiting to hear back from others in a few more countries that were expected to participate.  Both rural and urban locations were activated to char including one kiln that was placed right in front of the German Parliament building in!
Eighty-four farmers in Nepal produced at least 31,400 litres (approximately 10,000 kilos) of biochar quenched with cow urine, giving Nepal the gold medal in terms of the country that produced the most biochar.  Team lead, Bishnu Hari Pandit, deserves credit for collaborating this outstanding effort! 

A group of German activists made biochar in front of the German parliament and set-up a dry toilet for policymakers to provide organic nutrients to load the biochar with.

For single team biochar production it would be hard to beat Charmaster Dolph and his team in Australia that ran a char marathon for more than 17 hours using 2 moxham kilns to produce 4.3 cubic meters (~1,375 kgs) of biochar which will be used in their new biochar & hemp field trials.  Balz Bauer from Serbia also put in a great effort and produced 1,230 kg. of biochar. During cooler days heat from his biochar production would be used to heat his workshop with his Kon-Tiki kiln which he has modified to harvest heat.
Team Tasmania, headed by Frank Strie, had four kilns participating throughout the island, warming up both the winter air and apparently some local politicians.  One member of the Tasmanian Legislative Council was so inspired that he mentioned biochar & the CHARday event in his speech to Parliament.  Great way to get the word out on biochar!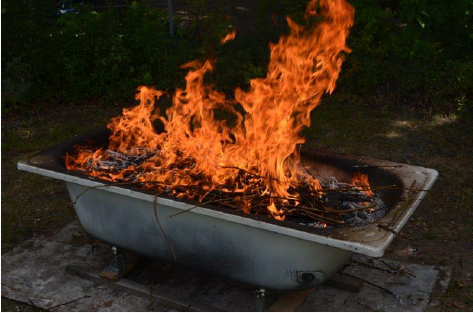 Detlef Pauligk from Germany won the prize for the most inventive design using an old bathtub to make 270 liters of biochar quenched with 40 litres of urine.

Biochar production equipment used for CHARday 2015 ran the gamut from various different sizes and types of Kon-Tiki kilns to recycled bathtubs, from soil pit kilns to the EB2 cookstove, and from the MWOTO TLUD to the PyroFarm technology which not only made biochar but heated a swimming pool (we'll be providing more information on this technology in an upcoming article)!
Some of the feedstock carbonized included bamboo by Art Donnally, invasive forest species in Nepal, vine and orchard prunings in Germany, saw mill waste in Sri Lanka and various shrubs and hardwoods by many different participants. 
While our goal this year was mainly to test out the idea of inspiring a global event, we also wanted to provide a very rough calculation of how much biochar was produced and then guesstimate how much carbon was stabilized as well as the CO2e. Data received was in both kilos and pounds, and liters and gallons so we had to do a bit of math using some conservative estimates about moisture and carbon content.  Nevertheless we estimate that more than 17,000 kgs of biochar (DM) or roughly 12,200 kgs of carbon  (assuming 70% C) was made during the event which translates to nearly 45,000 kgs of CO2e. Depending on how the biochar will be used, the amount of GHG emissions the biochar will offset could be much higher.  For example biochar reduces fertilizer usage when used in the right way as a soil amendment or can decrease CH4, N2O and NH4 emissions when used in livestock feed or in livestock bedding.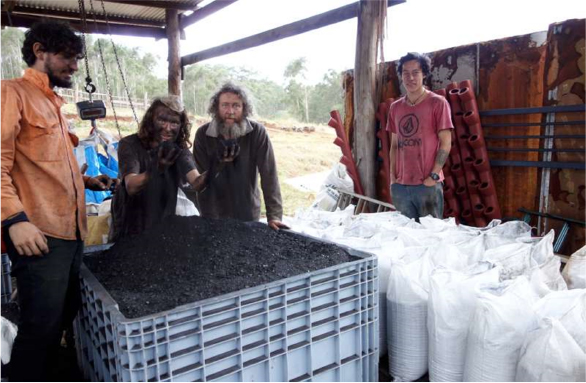 Dolph Cooke and friends after making 4 m3 of biochar in 18 hours using the pioneering Moxham kiln.
In addition to the goal of producing biochar all over the world, we hoped to inspire charmakers to educate others that are interested in biochar to learn how to make and use biochar.  The TerraBoGa team in Berlin takes top honors for number of participants with over 100 people in attendance! Several participants including Roger Gillet, Richard Copley, myself and others invited those new to biochar to char alongside them. And Haiko Pieplow took the opportunity to give away mulberry seedlings in Terra Preta substrates to interested gardeners, participants and passersby of the CHARday event they held. Our hope is those that learned the craft of charmaking this year will participate and teach others what they've learned in next year's event. Our goal for 2016 is to achieve at least a 10x increase in CO2eq over this year's achievement.  While definitely ambitious, these are the types of carbon sequestration goals the world needs to see are achievable with biochar.  We welcome your thoughts on how best to achieve this goal next year.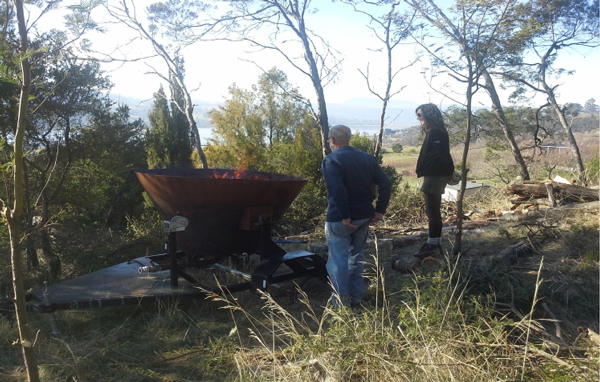 Tasmania's Frank Strie charred scrubby stands of black wattle on a cold Southern winter Sunday.


For those of you that participated in CHARday 2015, we send our sincere thanks and would love to hear your thoughts about future CHARday events.  If, by chance, you have yet to tell us about your CHARday event, please let us know about the biochar you were able to produce by sending us an email with any pictures to: brown@ithaka-institute.org
We've learned a few lessons about promoting such an event this year, not least of which is that various places were unable to participate due to burn bans at this time of the year because of high threats of fire.  Still we'd ask all charmakers to pencil in this time next year to host your own local CHARday event.